November 26, 2018
CURF News, CURF News & Announcements, Fellowships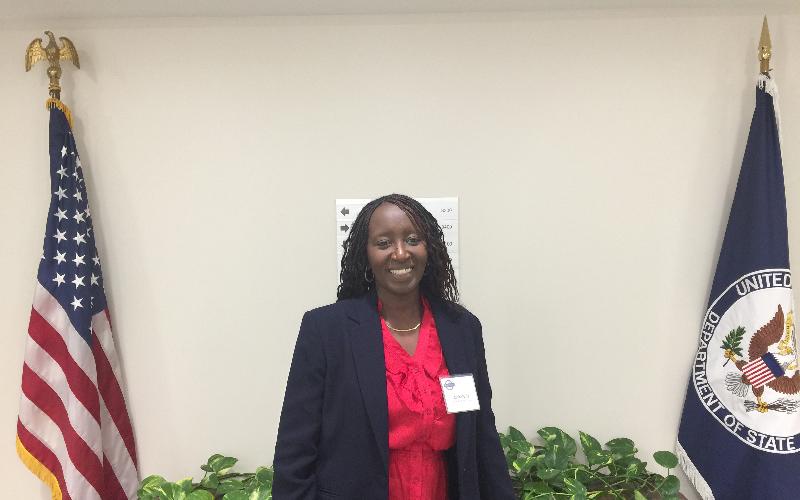 Aminata Sy (LPS '19) has been named to the 2019 class of Charles B. Rangel Graduate Fellows, which supports winners through two years of graduate school as well as entry into the Foreign Service corps. 
A West Philadelphian originally from Sénégal, Aminata Sy is currently a senior at the University of Pennsylvania studying International Relations with an English minor. Sy is a 2019 Charles B. Rangel International Affairs Graduate Fellow, where she will intern in Congress and overseas at a American Embassy and prepare to become an U.S. Foreign Service officer. A journalist since 2013, Sy has reported and written for many publications including The Philadelphia Inquirer, The Philadelphia Tribune, The Daily Pennsylvanian, University City Review, and Sigma Iota Rho Journal of International Relations. Her stories have mostly focused on African-American and African immigrant matters. She is a 2017 and 2016 journalism scholarship recipient from the Philadelphia Association of Black Journalists. As a 2016 Perry World House Inaugural Student Fellow, Sy researched on how to increase women's political participation in democratic countries worldwide, focusing on Sénégal as a case study. She has visited the U.S. Department of State and The Pentagon to meet with high ranking officials. She also met many prominent leaders like former U.S. vice-president Joe Biden, former Mongolian president Tsakhiagiin Elbegdorj, and former England's House of Lords leader Lady Catherine Ashton. She further expanded her knowledge in politics while working as a press intern in 2016 at Philadelphia City Hall, drafting talking points for the mayor. Sy is a Sigma Iota Rho Honor Society for International Studies inductee.
In 2017, Sy launched African Community Learning Program, a nonprofit organization empowering people of African background through education. The organization has helped guide students in grades 1-8 in their academics, integration into American society, and cultural pride. Sy is also the founder, editor, and publisher of the #500EmpoweringAfricanStories, a project that has created a content-relevant library for African Community Learning Program's curriculum. Sy led African Community Learning Program at the Wharton Startup Challenge competition, where the organization became a 2018 Social Impact Finalist. During her downtime, Sy enjoys reading and spending time with family. She plans to pursue graduate studies with a focus on public policy and to join the U.S. Foreign Service to become a diplomat.
Related Articles
06/06/2023
Currently 29 University of Pennsylvania students, recent graduates, and alumni have been offered Fulbright grants for the 2023-24 academic year to conduct research, pursue graduate degrees, or teach English in more than 20 nations.
04/26/2023
From Mexico, Silvia Huerta Lopez is a 2016 graduate now pursuing an M.D./Ph.D. at Harvard University.
04/03/2023
Asfari is one of 20 undergraduates in the nation to be awarded a 2023 Beinecke Scholarship to pursue a graduate degree in the arts, humanities, or social sciences.