Open to US citizens and non US citizens
Deadline: 10/11/2023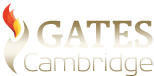 Please review our updated step-by-step guide and timeline for the Gates Cambridge application process!
Gates Cambridge Scholarship
The Gates Cambridge Scholarship is a merit-based scholarship in any subject area for students to pursue a graduate degree at the University of Cambridge. The scholarships are for one or three years, with a possible extension to a fourth year.
In addition to demonstrating wide-ranging academic excellence sufficient to be considered a top candidate in the Cambridge department to which they apply (which normally requires a cumulative undergraduate GPA of at least 3.80 or above by Summer 2023), the most successful Gates candidates have demonstrated the capacity to lead and "take others with them" to make the world a better place, a commitment to working for the greater good, and a good academic fit with the Cambridge graduate program to which they apply. Candidates with cumulative undergraduate GPAs below 3.80 at the time of application need to demonstrate sustained ongoing commitment to producing positive change in their chosen field. 
https://www.gatescambridge.org/
Deadlines:
For US Citizens resident in the US - October 11, 2023 (US) (Noon in your local US time)
For candidates who are citizens of countries other than the US (including US citizens who are living outside the US) –  deadline is based on the student's planned graduate course of study, either 5 December 2023 OR 4 January 2024
NOTE:  If a Cambridge course deadline is earlier than the relevant funding deadline above, you must apply by the earlier course deadline.
Penn's Application Process
There is no Gates application separate from the Cambridge graduate application (GRADSAF). That application includes a supplemental personal essay for the Gates Cambridge Scholarship (and another for the Cambridge Commonwealth Trust and the Cambridge Overseas Research Trusts).
While the Gates Cambridge Scholarship does not require Penn's nomination, CURF will be happy to provide advice, guidance, and application assistance to you.  CURF requests that Gates applicants create a single PDF of the required application materials (with the exception of recommendations) and submit a pdf of their complete Gates Cambridge application to CURF using this form after they have submitted their Gates Cambridge application to the Cambridge website.
Letters of Recommendation
The Cambridge application requires two academic letters of recommendation; the Gates supplement requires a third letter that can be (but is not required to be) academic. Applicants will be able to register referees only after they submit the Cambridge online application, and referees then have two weeks in which to submit their letters.
Contact Information
Details:
Location
United Kingdom, Europe
Type
Graduate Study
Eligibility
Senior, Alumni, Graduate Student