Open to US citizens and non US citizens
Deadline: 11/10/2023
(Tentative)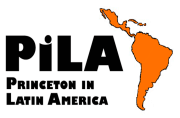 Princeton in Latin America Fellowship
Princeton in Latin America (PiLA) partners with NGOs and multilateral organizations and places highly qualified recent college graduates in one-year service fellowships with nonprofit, public service, humanitarian, and government organizations with a social mission in Latin American and Caribbean.  PiLA enhances the mission of its partners by building their capacity to impact constructively the communities they serve, addressing the social, economic, and political barriers to egalitarian community development.
Deadline: November 10, 2023 (TENTATIVE) [Unfortunately, Princeton in Latin America will not hold an application cycle for Fall 2022.]
Penn's Application Process
While the Princeton in Latin America Fellowship does not require Penn's nomination, CURF will be happy to provide advice, guidance, and application assistance to you.
Contact Information
Details:
Location
International (Not UK), Latin America
Type
Work/Service
Eligibility
Senior, Alumni, Graduate Student