Open to US citizens and non US citizens
Deadline: 10/28/2023
(Tentative)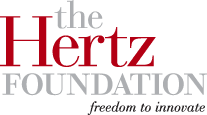 Hertz Fellowship
The Hertz Foundation Graduate Fellowship Award supports graduate students working towards the Ph.D. degree in the applied physical, biological and engineering sciences.
https://www.hertzfoundation.org/the-fellowship/
Deadline: October 28, 2022
Penn's Application Process
While the Hertz Fellowship does not require Penn's nomination, CURF will be happy to provide advice, guidance, and application assistance to you.
Contact Information
Contact your research mentor for advice on how to craft an application for the Hertz Fellowship.
Dr. Wallace Genser
Center for Undergraduate Research and Fellowships 
3539 Locust Walk, 3rd Floor
Philadelphia, PA 19104
Questions regarding applying for the Hertz? Email: genser@upenn.edu
Details:
Location
USA
Type
Graduate Study
Eligibility
Senior, Alumni, Graduate Student